If any newsletter except November 2017 appears, reload the page.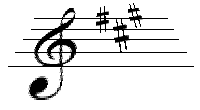 01 November 2017
Hi everyone!
So here we are... November 1. The beginning of solar winter. (Yes, solar winter is a "thing"... it is the quarter of the year when the least solar energy reaches our area. November 1 through February 1.) We in the studio plan to push back the darkness and create some of our own energy by gathering at the Sudbury United Methodist church on Sunday, 19 November at 1PM and having our musicale. Let's start at

1:30PM

Originally, I had planned to begin at 3PM, but the Sudbury Thanksgiving Interfaith service has been scheduled for 4PM and I will most likely need to be at Memorial Congregational Church with our SUMC musicians by 3PM. So let's start early; I hope that does not prevent any of you from participating. If problems arise, let me know!
As always, we want to be good guests of the church, so kindly read the

guidelines

I have worked up for us. This will help us enjoy the afternoon to the greatest possible extent.
At present, I have three students planning to participate in the New England Piano Teachers' offerings for recitals and competitions. (You can always look into those by visiting NEPTA.) If your calendar is handy, it is a GREAT time to lock in our future musicales:
Sunday 25 March 2018 at 3PM
Sunday 10 June 2018 at 3PM
...all at Sudbury United Methodist.
As always, I am ready to answer questions and concerns. Do not hesitate to get in touch.
Sincerely,
K