If any newsletter except February 2018 appears, reload the page.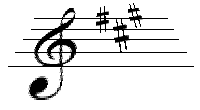 01 February 2018
Hi everyone!
Greetings, everyone! I hope your winter is passing pleasantly. As we all know, there has been a lot of influenza out there, I hope you and yours are keeping healthy.
There continue to be a few hours unclaimed in the studio schedule. If you know a young person interested in music whose school extracurricular schedule might have freed up now that winter term has arrived, or a recently retired person who looks to return to music study, I am always ready to interview prospective new students.
If your calendar is handy, be sure to lock in our future musicales:
Sunday 25 March 2018 at 3PM
Sunday 10 June 2018 at 3PM
...all at Sudbury United Methodist. During this coming week in the studio, I plan to start choosing music for our gathering with my students. I always enjoy this process, as it allows to "take stock" of what we have accomplished and what we might like to complete before sharing it in public.
Please do not forget I began a rate increase for my teaching starting January 1. My hourly rate will go from $50 to $55 an hour... it has been several years since I have made an increase; and the costs of insurance, utilities and materials continue to grow. Thank you in advance for your understanding of this change, and please let me know if the increase affects you in some way I have not forseen.
As always, I am ready to answer questions and concerns. Do not hesitate to get in touch.
Sincerely,
K